Doha City Tour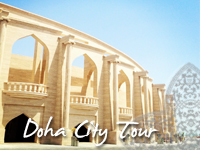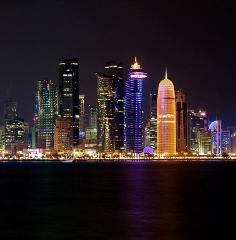 Duration: 4 Hours (approx.)
Product code: PLJOI6
An orientation tour to get acquainted with Doha, a rapidly growing city with an immense futuristic world class development program while retaining its old world charms. Marvel at modern skyscrapers incorporating multi-faceted traditional architectural elements.
The Pearl - Qatar, a Riviera style man-made island developed in an exclusive enclave of Doha. It is the Middle East's most glamorous address, covering 400 hectares of reclaimed land and Qatar's first international urban development venture.

Katara Cultural Village is the largest and the most multi-dimensional cultural project of Qatar. It is a place where people come together to experience the cultures of the world. With beautiful theatres, concert halls, exhibition galleries and cutting-edge facilities, Katara aims to become a world leader for multi-cultural activities.

Drive by West Bay, a newly developed neighborhood and one of the most prominent districts of Doha. West Bay includes many modern buildings unlike other, older districts of Doha. Some of the tallest skyscrapers in Qatar are found in this area.

Al Corniche - a 10km long, palm-fringed promenade and dual carriageway extends in a horseshoe shape around Doha Bay and the city's sea-front. It is lined with hotels, government buildings; lovely open, manicured parks with family facilities and public buildings such as museums and a library. People love to stroll along the corniche, taking in the twinkling sights of the city and the Arabian Gulf.
Museum of the Islamic Art - an imposing building set on an artificial island off Doha's Corniche. The museum is dedicated to reflecting the full vitality, complexity and diversity of the arts of the Islamic world. It is a world-class collecting institution, which preserves, studies and exhibits masterpieces spanning 3 continents and 13 centuries. The building itself was designed by world renowned architect I. M. Pei, designer of the Louvre Pyramid in Paris.
Souq Wakif - Qatar has a long tradition of market places, known in Arabic as 'souqs', Souq Waqif is a showpiece of traditional architecture, handicrafts and folk art, and was once a weekend trading area for the Bedouin. Meaning "standing market" in Arabic, the Souq evokes the feeling of ancient Arabic heritage and community. It is the only traditional souq to remain in the Gulf Region. Exploring Souq Waqif is like taking a step back in time especially when wondering through the maze of narrow streets and alleys filled with shops selling anything and everything from spices, dried fruits, nuts, local honey, clothing, perfumes, incense, fabrics, cookware, traditional handicrafts and antiques, tools and gardening equipment and even pets, birds and animals. A visit to one of the falcon shops is a unique experience – some shopkeepers will allow you to photograph and handle the birds while explaining about the equipment and training. Souq Wakif also boasts some very chic boutique hotels and restaurants serving both Middle Eastern and international cuisines. The place is always bustling with people especially in the evenings. Cultural performances are organised to celebrate seasonal festivities creating an atmosphere like no other in the Gulf region.
Cancellation Policy: In case of cancellation of the tour, we need a 24 hours advise from the person who book the tour.
Failure to inform our reservations within 24 hours the guest should pay 50% of the total amount.
Payment Policy:
Payment by Cash on the day. Payment to be made directly to Driver at pick up time.