North of Qatar Tour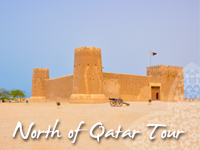 Duration: 270 Minutes (approx.)
Product code: P5IKJG
Al Zubarah Fort – Situated on the North-Western part of Qatar, the Al Zubarah Fort was built besides the ruins of an ancient fort. Al-Zubarah was once a flourishing port and a centre of trade, fishing and pearling. Now a UNESCO World Heritage site, this protected area has become one of the most important archaeological sites
in Qatar. An international team of archaeologists and antiquities experts, led by the Qatar Museums Authority,
have uncovered many of the artifacts which are displayed in the renovated fort.
Al Khor (also spelled Al Khawr) means "sea on threesides" in Arabic. Older than Doha but far smaller in size. Al Khor is located an easy 50 kilometres to the north of Doha. It used to be the centre of the pearling industry in Qatar but lost its importance after the introduction of cultured pearls. It now boasts a scenic harbour where you can find traditional fishing dhows, a corniche leading to mangrove colonies and a museum showcasing the fishing, pearling and dhow building industries.
Dhow Repair Yard – Traditional dhows are still being used commercially in Qatar. Witness how these traditional dhows are constructed and repaired in specially built boat yards.
Al Takhira Mangroves – The mangroves colony is not only a major tourism product for Qatar but an important natural environmental resource for Qatar. It provides a natural habitat and a sanctuary for birds, fish and other animals as well as prevent coastal erosion.
Cancellation Policy:
In case of cancellation of the tour, we need a 24 hours advise from the person who book the tour.
Failure to inform our reservations within 24 hours the guest should pay 50% of the total amount.
Payment Policy:
Payment by Cash on the day. Payment to be made directly to Driver at pick up time.