Dhow Cruise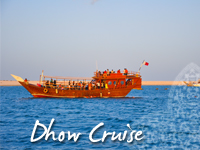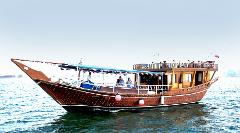 Duration: 5 Hours (approx.)
Product code: PCNJWZ
A "must do" for all visitors to Doha, enjoy a panoramic view of Doha city skyline on board a traditional wooden
dhow, an Arab sailing vessel with one or more lateen sails. Sailing close to Safliya Island, guests
can go swimming and sun tanning on the beach, simply dance on board or relax with a shisha (water pipe with flavoured tobacco). Barbecue buffet meals are prepared and served on board.
For evening excursions, as dusk falls and twinkling lights appear on shore, we pull away on a romantic cruise around the bay. The cool, night air spells magic as silhouettes and shadows interplay with the lights. Once the sun sets, dinner begins with an appetizing international buffet to complete the enchanting evening. You can take a moonlit swim, dance to the tune of Arabian/ English music, have a delicious dinner on-board and relax
under the stars while cruising across tranquil waters of the Arabian Gulf.
Premium dhow cruises with air conditioned cabin and a very nice seating area on the upper deck can be
organized upon request.
Time: Morning/ Afternoon
Meals & Refreshment: Barbecue buffet, mineral water, soft drinks
Minimum group size: 20 persons
Booking: 7 days prior to trip


Cancellation Policy: In case of cancellation of the tour, we need a 24 hours advise from the person who book the tour.
Failure to inform our reservations within 24 hours the guest should pay 50% of the total amount.