Shahaniya Tour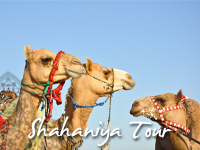 Duração: 4 Horas (Aproximadamente)
Código de produto: P5ADKI
Arabian horses are well-known for their beauty. One gets to catch a glimpse of the Arab show and race horses that are pure-bred at the Al Shaqab
Stud Farm. Other attraction is the Qatar Equestrian Club, where visitors come over to view its stables. Races and show-jumping events are held at the Rayyan Racing and Equestrian Club.
Cancellation Policy: In case of cancellation of the tour, we need a 24 hours advise from the person who book the tour.
Failure to inform our reservations within 24 hours the guest should pay 50% of the total amount.
Payment Policy:
Payment by Cash on the day. Payment to be made directly to Driver at pick up time.